CAREERS EDUCATION
We aim to create successful futures for all our young people so they can sustain employment and experience personal and economic success throughout their working lives.
Our vision is for every young person to be ambitious, develop skills and achieve qualifications to fulfil their potential within the world of work.
What to expect from your school careers programme
All pupils in years 7-11 access a programme of lessons within the PSHE curriculum, which focus on different aspects of careers and employability skills.
All pupils complete a short careers survey to help us identify several career sectors they are interested in, so we are able to direct opportunities to genuine interests.

All pupils will have at least one Employer Encounter during each year at school. These encounters include visits to local universities, national careers events such as The Big Bang and The World Skills Show.

Local business and employers visit our schools to offer practice interviews and attend an annual Careers Fair, which is open to all pupils and parents.

Access to  online resources to support careers development such as e-Clips or Let's Do Business helping pupils to research careers independently.

We offer access to businesses, employers, Post 16 providers to deliver talks and assemblies each year to make sure all pupils know the opportunities available to them when they leave school.
In Year 10 and 11, every pupil has a 1:1 guidance interview with one of our Level 6 Careers Advisors. Parents and carers are able to attend this interview if they would like to.

We actively promote access to a wide range of careers to all pupils challenging stereotypes and careers, which traditionally have been gender-specific.

We encourage the development of work ready skills through our curriculum and extracurricular activities.
How you can support your child in their career journey
Please talk to your child about their career interests, if they do not know what they would like to do focus on developing their work ready skills through activities, hobbies and interests.
Take advantage of the many employer encounters offered during the year, sometimes a visit out of school can motivate and provide pupils with direction in their career planning.

Contact the school if you need support of any aspects of careers, or if you are able to support the school careers programme.
CAREERS PROVISON
It is never too early to think about careers and your future plans. We believe that providing opportunities and information as well as careers guidance from a qualified careers advisor supports all young people to make informed plans and decisions.
Each of our schools have a team of staff committed to planning and delivering high quality Careers events for all our pupils.
We have a careers curriculum for years 7-11 delivered through our PSHE programme which introduces, develops and provides information to help pupils make informed careers decisions.
Our careers work is designed to support the Gatsby Benchmarks.
CEIAG TEAM AND POLICIES
The CEIAG Team
At the Midland Academies Trust we have a team of staff who work together to deliver quality and impartial CEIAG. The team consists of: 
Sophie Smith – Careers Leader

sophie.smith@unitedlearning.org.uk
Policies
Policies aligned to Careers Education including our brand new employer access policy which enables direct contact between employers and school.
THE CEIAG PROGRAMME
 
The careers curriculum is planned and resourced to fit into the whole school curriculum and utilises knowledge books and teaching methods used in all lessons. There are opportunities for discussion within the lessons to allow pupils to explore topics and ask questions. Like other subjects we use knowledge quizzes to help build up pupils' knowledge of careers so that they become familiar with terms and career specific words.
The programme is shown below:
We believe that developing the individual's ability to be self-aware, determined and have a desire to improve are key areas to support a successful transition from school to equip students to manage their career aspirations. We often talk about a 'career' to young people and this can be linked to a variety of roles that may or may not be paid. However, skills in career management can also support an individual to make full use of all opportunities they encounter. To manage a Career a student will maximise their learning, work and transitions to enable them to fulfil their aspirations and career choices. The acquisition of skills to support employability and to be resilient when faced with change is a key element of the Careers education a school must provide.
The Midland Academies Trust We actively encourage the involvement and support of local business and employers and as such host events designed to provide impartial advice and guidance at key transition points through school. This can be in the form of Careers and Employability events which include students, parents and carers or 'enrichment' days where whole year group activities are delivered such as the 'Real Game' where students examine transferable skills and employability. Students will also have the opportunity to have practice interviews and feedback from local employers to develop their own skills and confidence.
The Careers and Employability Manager will attend Parents' Evenings to provide a further opportunity for access to impartial advice and guidance. Students also have regular assemblies on themes linked to transition points and Careers during years 7-11.
We systematically ask students and teachers to evaluate the careers curriculum and we would welcome any views/comments from parents and carers.
THE GATSBY BENCHMARKS – QUALITY CAREERS PROVISION
Careers education became a statutory requirement in January 2018 and we have worked to ensure we
have a wide variety of opportunities both in and out of school to help us to prepare all our young people for their future working lives.
To help us with our planning we follow a set of core guidelines called The Gatsby Benchmarks. These are 8 key areas that contribute to effective careers provision. Each term we complete an evaluation using a system called 'Compass' this allows us to rate our provision against each benchmark and indicates what our focus needs to be. Our aim is for 100% in all 8 benchmarks!
Here are the  Gatsby Benchmarks
1. A stable careers programme
At The Midland Academies Trust our schools follow a planned careers curriculum which is delivered through our PSHE curriculum. The staff that deliver this programme are supported with well-planned and fully resourced careers lessons and also receive some CPD to support their delivery.
This programme planned jointly by the schools includes key elements designed to help the pupils to explore and find out all about careers they are interested in as well as address key issues which are important when looking at careers such as stereotyping, social media and important work related skills. Information about future study options and the labour market is available to students at Careers Events, through taster sessions that we hold for pupils, some in school and others at local post 16 providers, and through independent careers advice from our Careers and Employability Manager who is qualified to give impartial advice on careers and future opportunities.
To identify pupils' guidance needs, we ask them to complete a brief questionnaire at the beginning of the Academic Year, with their interests and future career path ideas on. This information is then collated and helps us can target particular pupils for specific events that may be of interest to them and their future career path.
We provide a wide range of opportunities within each Academy for pupils to have direct contact with employers whether it is visitors to an assembly or specific career related activities in school or out at a place of work.
In addition to those already mentioned; a number of pupils are involved in programmes designed to open the access to university. 'ThinkHigher' is established in our schools and we support several visits to local universities throughout the school year.
2. Learning from careers and labour market information
To identify the needs of our pupils in regards to careers guidance, we encourage and document attendance to appointments. Every Year 11 pupil has at least one interview with our Careers Advisers and Employability Manager and receives an agreed action plan to support their career planning.
Pupils can access Careers Advisers and Employability Manager by using a number of methods – pupils or parents/carers can request appointments, teachers can refer them. To remain impartial, we ensure that our Careers Advisers and Employability Manager arranges appointments with all of the pupils who are unsure of their future path.
Labour Market Information is also used throughout our careers programme, LMIs poster are displayed around our schools and on our website
3. Addressing the needs of each pupil
To address the needs of our pupils, we complete our Activity Tracker which allows us to track the encounters with employers over a school year. This tracking can also allow us to add information to a pupils' area so we can target support and opportunities. We are keen to be inclusive and support pupils of all abilities and interests. For this reason we look at intended destinations appropriate to each individual and support access to appropriate post 16 choices so the transition from school is as supported and smooth as possible.
4. Linking curriculum learning to careers
To ensure that careers are incorporated into the curriculum learning of pupils we have worked with all our subject staff encouraging them to promote work ready skills as part of their everyday teaching. We want our pupils to see that alongside their academic studies we are developing their work ready skills to support a successful start at work. We have subject specific displays around the school sites which show the pupils how the curriculum they are studying can link to future jobs ad careers. All staff in the Midland Academies Trust have had CPD training on careers to help them know and understand the role they play in raising aspirations linked to careers.
5. Encounters with employers and employees
 Our pupils have a range of planned encounters with employers and employees. We document all of the encounters that the pupils have, so that we can target pupils who may not have engaged in any activities and events. These encounters take place in school through organised events like Careers Events or practice interviews or at a place of work such as the MIRA Technology Institute or at the local George Eliot Hospital. We invite parents to be involved if they can offer a visit to a work place and also involve them in feedback on events so we can continually improve our offer.
6. Experiences of workplaces
Some pupils may get the opportunity for a formal work experience and we encourage all pupils to look for holiday placements through connections they may have through family and friends. Our programme often involves a visit to a work place and we have taken advantage of promoting many 'virtual' work experiences on offer to pupils who have an interest in a career sector. We take advantage of opportunities such as the Warwickshire World of Work where a number of Year 10 pupils from all our schools received a programme of information and 'hands on' activities in a work place and had the opportunity to 'meet the boss'.
7. Encounters with further and higher education
The Academy invites a range of education and training providers in to talk to students about approved technical education qualifications or apprenticeships. The providers will discuss with pupils a number of apprenticeships in a vast amount of sectors and industries. Our sponsor North Warwickshire and South Leicestershire College support us by providing several opportunities throughout the year to visit different sectors and gain up to date information on many Post 16 options. 
All our pupils and their parents from Year 7-11 have the opportunity to attend career events.  Representatives from local businesses, apprenticeship and training providers alongside further and higher education providers attend to discuss future career paths. 
We believe raising aspirations starts as early as possible and plan visits to local universities to open up possibilities to our Year 7 pupils who may not have considered this route. These visits involve a campus tour and activities to help break down the barriers that may prevent a pupil from considering this option. A number of targeted pupils take part in the 'Think Higher' programme which allows them mentoring support and works with families to show this route as a viable choice for some pupils.
8. Personal guidance
Our Careers and Employability Manager is Advisers are Level 6 qualified and provides independent advice and guidance, is a are membersof the CDI and follows their code of ethics. This work takes place in all our schools and provides one to one appointments, group session working closely with parents to support and help raise aspirations. All our schools have their own bespoke Careers bases which have a corporate identity and are used weekly. The Careers and Employability Manager spends time every week in all our schools seeing pupils on an appointment system as well as pupils who may self-refer or be referred by staff.
The Gatsby benchmarks are under continual review and are monitored each half term through the use of Compass. This helps us to see where we are and identify what we need to do to improve each benchmark even further. We work closely with our Enterprise Coordinators and local career Hubs to improve our careers programme and offer to pupils.
The National Quality in Careers Standard is awarded to schools who can demonstrate the importance they place on careers and how they support pupils to make decisions about their futures. 
George Eliot Academy has made a commitment to working towards the Quality in Careers Standard which we will be starting in September 2020 – watch this space for updates!
Linking school to your future careers

Our schools look for opportunities to promote careers and the skills for employment across the curriculum. We believe that every staff member can support careers through the daily conversations, lessons and careers displays around the school.
We highlight Labour Market Information which helps pupils to see the future employment opportunities within their local area. This helps pupils to make future career decisions based on real employment needs and future trends.
 Linking Subjects in the Curriculum to future Careers
Ever wondered what the point of all those qualifications really is? Going to school is not just about getting a piece of paper that allows you to move on to the next rung of the education ladder, it's also about developing skills for work and everyday life that you will use long after you have left!
Click on the different posters below to find out what different careers relate to the subjects you are studying at school and what important workplace skills you are developing from your time at school:
Links to career posters
What is Labour Market Information?
Labour Market Information (LMI) comes from a range of sources and includes information on general employment trends.
It also indicates future employment demands and skills gaps.
Click here to go to the eCLIPS website
We have chosen eCLIPS as our careers information resource. This easy to use online platform will help you make informed decisions for their future. It's written specifically for 11-19s by career professionals and provides:
Accurate information on over 1400 jobs to help your child consider the full range of options

Live-streamed labour market information including local vacancies
information catering for all abilities and stages

Careers linked to school/college subjects

Impartial advice to help your child choose study and employment options and prepare for the world of work

An interactive career matching tool
By investing in eCLIPS we are helping to meet four of the eight Gatsby Benchmarks (2,3,4 & 7), the Government's chosen standards for high quality careers guidance provision.
Our licence provides unlimited access both at school and at home.
Warwickshire Labour Market Information
Other useful websites include the following:
OPTIONS YEAR 9 and BEYOND
We support all key transitions where pupils will need to make decisions about their future. In Year 9 pupils are asked to select subjects for their GCSE's. We support these decisions by offering careers advice and guidance and information that explains what you will study but importantly what skills for work subjects will develop. When Post 16 plans are being considered we provide both information and the opportunity to attend a careers fair as well as visits to a number of local providers.
Year 9 Option Pathways
We understand that making a decision about which subjects to specialise in during Year 10 and Year 11 can be difficult. During Year 9 pupils will have a series of Careers lessons which will help them explore different careers paths and help them make informed decisions. At the Pathways evening pupils and parents will be able to speak to subject teachers and also to our Careers Advisor who will be able to help with any questions you have. Pupils and parents will also be able to see Local labour Market Information which shows the employment trends within our local area. 
So when making decisions about the right specialist subject pathways for you, there are some key questions to ask: 
Which subjects do you enjoy? 
If you are going to spend another two years studying them, it helps if you like them. Bear in mind that what you learn in Year 10 and Year 11 will be different to what you've done so far. Read the pages in this booklet carefully to get an idea about the topics you will be studying. Then talk to your teacher if you still aren't sure. 
HOW DO YOUR SUBJECT PATHWAYS BALANCE EACH OTHER?
You might love doing PE, but if you choose to specialise in too many similar subjects, it doesn't give you as many options post 16. Usually, choosing a balanced mix of subjects is the best way. We help out with some of this by having core subjects, which everyone does, and then specialist subject pathways where we try to give you a good range of choices in each pathway. 
WHAT TYPE OF CAREERS DO THESE SUBJECTS LEAD TO?
Again, remember that there are different routes to the same destination, but some subject specialisms are often linked to particular careers.
HELP AND SUPPORT
This 'Directions' booklet is aimed at pupils choosing their options in Year 9.  Pupils are encouraged to think about factors they need to consider when making decisions about their Key Stage 4 options. It includes crosswords and other quizzes to check and reinforce learning and also provides information about qualifications, subjects, post-16 options and sources of help.  We would encourage parents/carers to look through this booklet with their son/daughter as it will help support decisions as well as provide up to date information on subject choices and their potential links to different careers.
POST 16 OPTIONS

We aspire to enable all our students to access the most appropriate and correct level of learning for them when choosing their Post 16 pathway which will support their careers and ambitions. We actively work with all our young people to intervene and support them securing a positive destinations in all Midland Academies Trust schools.
What are some of the Post 16 options in our area?
A Sixth Form College
These do have entry requirements and generally offer a range of A Level and in some cases BTEC qualifications. You would normally choose between 3 and 4 subjects to study over a two year period.  

Further Education Colleges
Further Education Colleges generally offer specialist and vocational courses and qualifications. These qualifications can take you to university or into apprenticeships and employment. Further Education Colleges offer a wide range of courses at a variety of levels. Subjects can include Computing and Information Technology, Health and Social Care, Engineering, Hospitality and Catering, Sport and many more. Check your local Further Education College for more information.

Apprenticeships
Apprenticeships combine practical training in a job whilst studying for a qualification. Apprenticeships are offered at different levels and in a wide variety of employment areas. As an apprenticeship you will work alongside experienced staff, gain job specific skills, earn a wage and get the opportunity to study to ensure you get a relevant qualification.
Traineeships
A traineeship is the time spent learning a job (or vocation) under a supervisor. You can do a traineeship in just about any workplace, for example in a shop, a fast food outlet or office.
Traineeship qualifications range from Certificate II up to Advanced Diploma. As a trainee, you and your employer will have a legal agreement called a training contract. This lasts until you have completed your training and both you and your employer agree you are competent.

Employment
You are able to spend 20 hours or more a week working or volunteering, while in part-time education or training.
For more information on local Post 16 providers please contact careers@midlandat.co.uk
Other links can also be found on the Labour Market Information section on this website.
Raising Participation Age (RPA)
This means that all young people are encouraged to stay in 'education and training' until the age of 18 years old and was introduced in government legislation 2013.
This does not mean that young people have to remain at school but rather they will have a variety of education and training opportunities to consider. These opportunities will form part of their Careers guidance during school.
Pupils must do one of the post 16 options mentioned above until they are 18. The advantages of this is that young people continue to develop their skills and continue to study this in turn will help them to be better equipped to enter employment and manage their own careers.
The 16-19 Bursary Fund is available to support young people most in need and who are entering education or training.
For more information contact:
DESTINATIONS DATA OF OUR PAST PUPILS
Each year the Midland Academies Trust We collects and maintains accurate data for each Year 11 pupil from each school around their education, training and employment destinations.
Please click individual posters below for details of our pupil destination information provided by our Local Authority - Warwickshire
George Eliot Academy destination data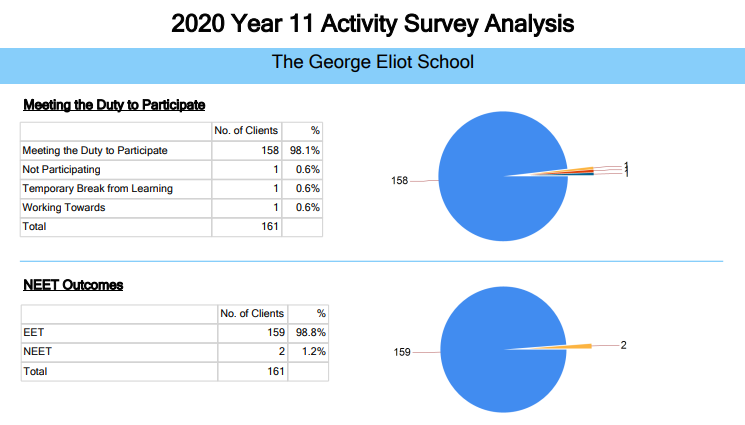 ARE YOU A PUPIL, PARENT OR EMPLOYER?
 We know that school can provide much of the information but helping yourself to research independently about careers you are interested in or helping your own child to plan their career and develop those important skills for work is a great support. As an employer you can provide the link schools need to the work place by offering employer encounters or supporting careers events in school.
Are you a pupil?
We want to help you develop your own careers and work readiness skills.
This doesn't have to happen in school in a classroom. There are a lot of online opportunities that are fun and interactive to help you become ready for starting your career.
Look through this careers website to help you get a better understanding of what we do.
Click on your Year group link below to start your independent careers learning and get yourself ahead.
Year 7 Careers Work
Start to explore some careers that could be of interest to you and suit your personality type. Thinking about how you like to work, your personality and interests is a way of shaping some career ideas that you could start to explore.
Remember- Life is all about choices and the choices you make eventually make you! Start to take charge of your own career choices.
YEAR 8 CAREERS WORK
Next year you will be choosing your options subjects. To make the right choice you need information at your fingertips! If you don't know all the facts how can you make the right choice? Start to find out all about the range of subjects you could choose by doing some 
Year 8 Exploring GCSE Subjects and Careers
YEAR 9 CAREERS WORK
Where could your GCSE subjects take you in a career? Have a look at careers that use the GCSE subjects you have chosen and explore the different job roles that the different careers sectors. Look at the things people do, the skills set that make them good at a job role and the routes after school that led people to these careers.
Year 9 Exploring GCSE Subjects and Careers
YEAR 10 CAREERS WORK
Post 16 choices and routes. Look ahead at what your choices could be after school. Finding out this information helps you to make the right choice for you. Look at them all by completing these tasks and start to think about the route that is right for you. Take this further by visiting the virtual careers fair or try some virtual work experience to see what you could do after you leave school, try to look at things you have not considered as a career and find out more information. 
YEAR 11 CAREERS WORK
Keep checking this section of the website to find out about open day events it's not too soon to start getting the information about visiting providers through the many virtual open events designed to help you in your decision making. Make sure you talk through your ideas with a parent, form tutor and when you have your 1:1 Careers interview with Debbie Partridge.
Year 11 Virtual Work Experience Task
Year 11 Post 16 Options Information
Get ahead with your Careers Research by clicking on your year group and completing some independent careers work.
Each academic year we welcome pupils to apply to become a member of their school Careers Council. The Careers Council is a group of pupils from years 7-11 who meet at least once each half term to look at the careers provision in their school and contribute to planning and reviewing events to support all pupils to be aspirational in their career plans and future working lives
Our Careers Council will encourage our pupils to get more involved with careers and also play a part in shaping what we do. The Careers Council members will meet and look at a wide variety of things such as the careers curriculum, help plan careers events, maintain careers displays around the school and also link directly with employers when they visit the school. They will also work with their year group and form tutors to provide information and get feedback from the pupils in all year groups.
Are you a parent?
our support with developing an interest in careers with your son/daughter is really important.
It is unlikely that every pupil knows exactly what they want to do in their future career from an early age. This is completely normal!
Your role can be one that encourages pupils to explore different career sectors and to also talk to them after they have taken part in a careers event in school or had a series of lessons which focus on careers as part of their PSHE programme.
All staff in the Midland Academies Trust are working hard to promote careers across the curriculum. This is focussed on promoting skills that pupils develop in their different curriculum subjects which help them to become 'work ready'. Many employers and businesses across the country often comment that pupils are well qualified but lack work ready skills necessary to be successful in many employment roles. 
 So we encourage our staff to point out opportunities in their lessons that develop these work ready skills. An example of this could be completing a task as a group of pupils where each individual has to take a part to complete the task in the time set. The teacher will draw attention to the fact that in the work place you need to work together to complete and finish a task and the success often relies on every person doing their part. Within a Technology lesson pupils often have to schedule their work to make sure they complete every part in a certain order to successfully make a product, the teacher may liken this to completing a job at work on time.
We have lots of examples of work readiness skills on the Careers in the Curriculum section – have a look so your son/daughter understands what these are.
But you can also help develop work ready skills at home through some of the things we do every day. Here are some examples to get you going:
Encourage your son/daughter to take on a job at home that needs to be done each day- it doesn't matter what this is as long as it is done. This can develop reliability –doing something however mundane that others rely on you to do- even keeping your bedroom tidy!
Encourage them to plan and cook a meal within a set budget. This is more than money management but shows consideration for others and compromise important for being successful at work.
Encourage any form of voluntary work. Helping a neighbour to do something on a regular basis or helping a relative. This shows resilience and also a willingness to do something for others without monetary gain.
Encourage any part time work (if available) this is a great way to develop work ready skills even if only a few hours a week. It doesn't matter if the job doesn't seem in line with a possible career choice for example a paper delivery round develops-
Punctuality- getting up early to deliver the papers

Resilience – doing the job in all weather conditions

Organisation – planning the route to deliver the papers to make efficient use of time

Communication- talking to customers, dealing with any complaints or order changes. Learning to talk to people of different ages as a work force will be.

Money management- earnings may not be high but starting to plan and manage the money you have is an important skill.
'Have your say' please provide the school with any feedback and suggestions of how we could make our careers provision even better. Talk to your son/daughter about a planned visit for careers before and after the event so you do your bit by helping to prepare them for it and then help them to take the key points away after the event. From time to time we may call you as a parent after an event your son/daughter has been involved in so we can find out how it went and how to improve it further. 
A parents' toolkit for career conversations
A parents' toolkit for career conversations. A parents' toolkit for career conversations. When it comes to education and careers, parents, carers, and guardians are the biggest influence in young people's lives.
ARE YOU AN EMPLOYER, EDUCATION OR TRAINING PROVIDER
At the Midland Academies Trust, We have a statutory commitment to uphold the Education Act 1997 and the recent Technical and Further Education Act 2017, which involves adhering to the Baker Clause that came into force on 2nd January 2018 (https://www.gov.uk/government/publications/technical-education-and-apprenticeships-raising-awareness)
The policy statement from each or our schools within MAT explains how providers of technical education, such as alternative 14-16 providers, Further Education colleges and apprenticeship providers can apply for access to speak with our pupils in Years 8-11 about the various education and training options available to them at 14-16 and post-16, including details of suitable access points within our school calendar and the lead contact at the school who can help to facilitate this.
Please click on the links below to see individual MAT our School Provider Access Policies: change to Policy
We welcome employers to take part or suggest new activities in our careers provision.  Your involvement is important as we continue to develop and improve our careers offer.
As an employer you could become involved by offering:
Visits to the workplace

Assemblies
Careers Fairs

Small group/individual practice interviews

Mentoring groups or individuals

Work experience opportunities

Skills/qualities essential for employment workshops
Post 16 opportunities within your business setting
MAT ALUMNI

We are very proud of our former pupils. Many of our alumni have gone on to great things and you can find out more about some of them below. Our support of our pupils doesn't stop when they get their results, as MAT an Alumni we will always be there to support you!
We are extremely proud that our Alumni still feel part of the Midland Academies Trust family of our school and they even come back to visit and help inspire our current pupils. If you're a former pupil of George Eliot Academy, Hartshill Academy, Heath Lane Academy, The Nuneaton Academy, we want to hear from you!
Your experiences since leaving could help to motivate and inspire our current pupils to feel more confident in making decisions about their future. We'd love you to join our alumni network and stay connected with the school.
Whether you're in further education or employment, whether you still live nearby or have moved further away, there are still ways you can get involved.
You can choose how and when you help – perhaps you can act as a career and education role model, provide work experience, become a mentor, take part in mock interviews or even apply to become a governor.
We look forward to hearing from you.
Alumni Biographies
A collection of our Alumni Biographies will soon be published below! Let us know if you would like to be included.
Please can you complete and submit the MAT Alumni Form on the link below;
http://forms.office.com/e/8JFJN1L5c3
 EVALUATING CAREERS – HAVE YOUR SAY
The purpose of evaluating careers activities is ensure that the pupils have gained valuable knowledge and experience to help them make informed decisions about their own career planning. In evaluating we are not only showing accountability for what we do, but are also continually looking to improve what we do to provide a better experience for the Pupils.
We want to impart careers knowledge to inform decision making and also raise aspirations and possibilities of all our pupils. By offering a wide range of activities to pupils we aim to increase knowledge and widen opportunities both in the local context but also nationally and internationally.
We know that all stakeholders need to have the opportunity to provide feedback to help us to review the effectiveness of activities on offer and improve them to provide the best possible experiences that are targeted and timely. For the events we offer we ask parents, pupils, teachers, employers and visitors to 'Have Your Say'.
We welcome feedback in a variety of ways:
 Text

Email

 Telephone call

Written response

`Live' verbal feedback at events